Services
In addition to machines, Forsfood Oy offers a diverse range of services.
Our special expertise is the design of production lines, lay-out design of production plant equipment, design of hygiene solutions and pre-design of equipments.
We offer installation services performed by professionals. Our starting point is that the equipment suppliers' engineers make the installations of the larger units.
Our spare parts service covers all original parts of our extensive equipment range, either delivered directly from the manufacturer or, in the case of critical parts, from our own warehouse in Kauhajoki. We recommend that customers prepare for equipment failures with device-specific spare part packages.
We implement our service services both through our own service personnel and through a service partnership with our operator. Our service personnel are trained and professionally qualified by our equipment suppliers.
Design Services
We implement comprehensive projects in which pre-planning plays an important role
In the preliminary design, calculations and surveys can be made to support the customer's decision-making, and the optimal machine and equipment placement can be determined. We prepare solutions for individual machine selection to lay-out design for entire production facilities. We also use hygiene flow planning to strengthen the compliance of food establishments' hygiene requirements with today's regulations and challenges in high-hygiene areas, as well as the implementation of hygiene boundaries between production and, for example, staff premises.
In planning, we always take into account the special features of the food industry, such as the ordering and delivery process. We want to offer our customers the most efficient and hygienic logistics plans from stock to processing and packaging.
Installation
and
Commissioning Services
If you wish, you can get a professional installation and commissioning service for all the equipment we sell.
With the help of our installation service, the production process can be made operationally efficient. During the implementation, the reliable operation of the equipment is always ensured, so that as a customer you can focus on your own business without any worries.
When commissioning, we take into account the procedures and regulations defined for each device.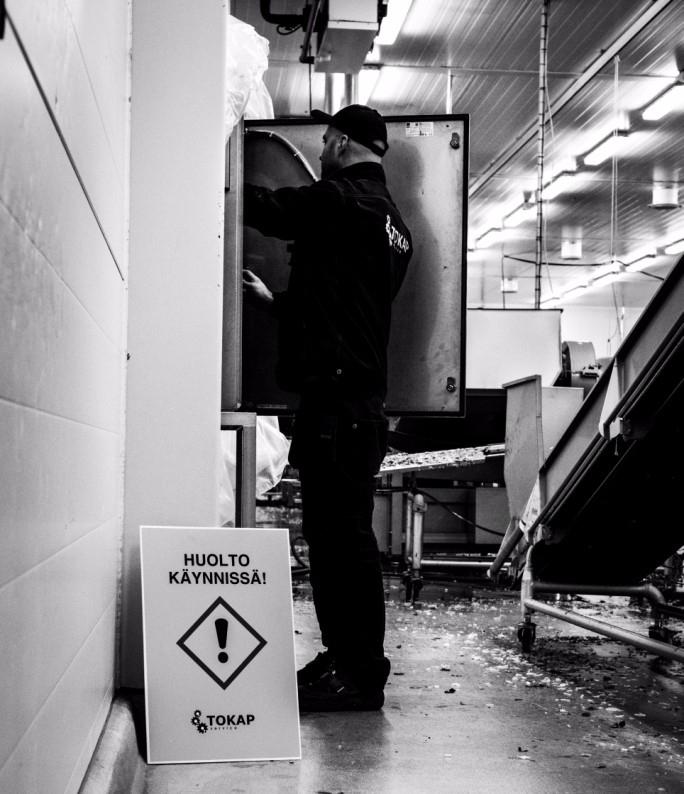 Spare Part and Maintenance Services
We supply spare parts for all the equipment we sell. We also offer packages of recommended critical spare parts for all equipment, preparation for equipment breakdowns should be taken into account especially before the start of production seasons.
We perform equipment repairs and preventive maintenance for equipment under all the brands we represent and Forsfood's brands. With preventive maintenance, e.g. extend equipment life and prevent challenging and costly production interruptions.
In addition, we can enter into annual maintenance agreements with our customers for the equipment we supply. Our service partner in Finland is Tokap Service Oy
You can send a service inquiry via e-mail.
We also offer Leasing Financing for equipment purchases. Our partner is Siemens Financial Services. "Siemens Financial Services to facilitate the growth of SMEs by supporting the enterprise's development and innovation with smart financial solutions, as well as Siemens and third-party devices and technology. Siemens is committed to providing customers and partners with fast and efficient financial services." Ask more about financing opportunities from our sellers!
Leasing only available in Finnish market.